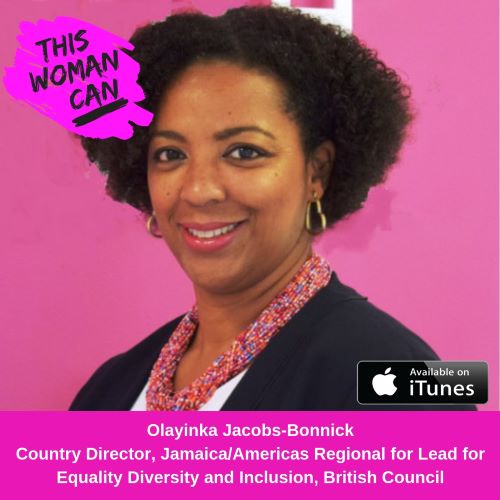 Olayinka Jacobs-Bonnick is an expert in cultural administration and enterprise development, specialized in the creative and cultural industries and social enterprise.
With a background of over 19 years working in cultural, creative and social enterprise development sectors, 14 of which were spent working in the regeneration sector in the UK, Olayinka joined the British Council in 2016 as Director Jamaica and Director Caribbean.
In 2017 she became the Americas Regional for Lead for Equality Diversity and Inclusion, a role she carries out in conjunction with the Country Director Jamaica role.
Under her leadership the Jamaica office has launched 3 bespoke flagship national programmes, all the first of their kind in the Caribbean Region and in the British Council Americas Region - Social Enterprise in Secondary Schools – a best practice model, Boys in Education and Film Lab.
During her time in the UK, she designed and led on several social and community enterprise initiatives, such as a training programme for community based business advisors, under the ESF funded programme,
Olayinka has also worked extensively in the Caribbean as a creative and cultural enterprise development consultant, before taking up her post with the British Council.
She has worked for the Government of Barbados, CARICOM, the EU and the ACP as well as for UNESCO Office for the Caribbean, and on projects funded by DFID, Caribbean Development Bank and the World Bank.
She is also the founder of the South South Collective, a B2B creative and cultural industries platform connecting practitioners and artists, across the 134 countries of the Global South, through international coverings, global conversations, business opportunities and collaborations.
Olayinka Jacobs-Bonnick has an MA in the Design and Implementation of Cultural Projects, from the Sorbonne University in Paris, France and is also a UK accredited business advisor for creative, cultural and social businesses and organisations. She has spent most of her life in between the Caribbean, Africa and Europe and has travelled extensively to other parts of the world, recently returning to Jamaica to live with her family.
To connect with Olayinka:
LinkedIn – Olayinka Jacobs - Bonnick
Connect with me 
Instagram or Facebook: Iamjanicesutherland 
Click for more details and to register to join the This Woman Can Mindset Reset 30 Day Challenge
For career advice and solutions to those tricky questions, read my book!: This Woman Can - The no bullsh*t guide for women who lead
Loving this episode? Tag me @iamjanicesutherland on Instagram or Facebook and share your favorite nugget using the hashtag #ThisWomanCan
Leave a Review