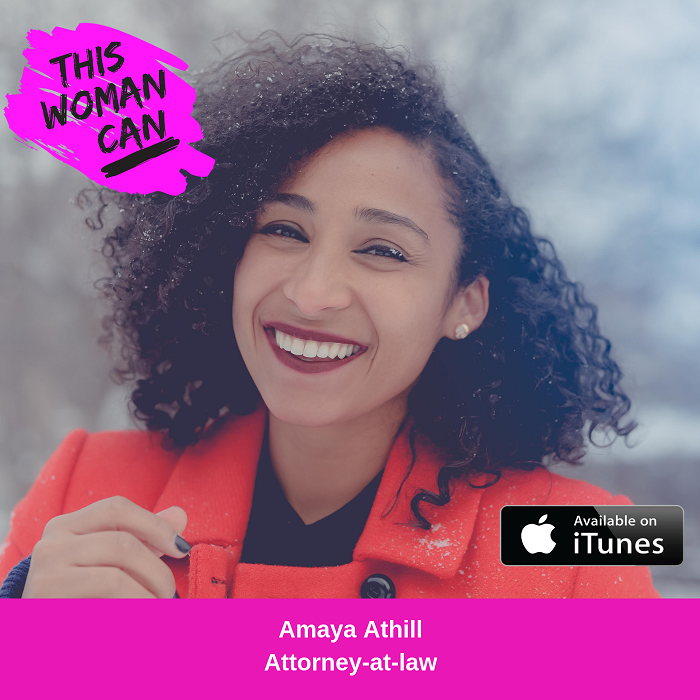 Amaya Athill is a Public Leadership Fellow and Visiting Graduate Researcher at the Jeanne Sauve Foundation and McGill University in Montreal, Canada. Her work currently includes research on and explorations of concepts of leadership in culturally diverse societies.
Prior to this, Amaya spent 5 years practicing as an Attorney-at-Law specializing in civil
litigation and human rights law at the law firm Lake & Kentish in Antigua where she actively sought to represent people from marginalized communities, specifically, prisoners, victims of gender-based violence, and persons from the LGBTQ community. She is called to the Bar of England and Wales and Antigua. She obtained her Masters in Law (LL.M), with a specialization in International Law, from the Georgetown University Law Center as a Fulbright Scholar in 2013.
As a youth leader, Amaya chaired a group of young professionals who organized and hosted the first-ever youth-focused political debate between the two main political parties in Antigua dubbed "The National Youth Forum" in 2014. Amaya continues to be passionate about highlighting and uplifting the voices of Antiguan youth and fostering youth civic engagement through her most recent #YouthOfAntigua series which can be found on the NYF Antigua Facebook page (@NYFAntigua on Instagram). Amaya was also the Co-Chair of the inaugural
TEDxAntigua event held in June 2015.

An avid community service volunteer, Amaya served as the Legal Advisor to the Halo Foundation Inc. – a non-profit Organization spearheaded by the Governor General of Antigua and Barbuda, Sir Rodney Williams, and his wife, Lady Williams. Amaya also served as the director of Youth Projects for the Rotary Club of Antigua from 2016 - 2017. Amaya was a Caribbean-Canada Emerging Leaders (CCELD) Fellow as well as an IMF/World Bank Civil Society Fellow.
Amaya intends to continue to represent Antigua to the best of her ability and push
for positive transformative change specifically through advocating and working in the
areas of youth engagement, social justice, and human rights.
To coonect with Amaya - amaya.m.athill@gmail.com
NYF Antigua - NYFAntigua@gmail.com
Connect with me 
Instagram or Facebook: Iamjanicesutherland 
Click for more details and to register to join the This Woman Can Mindset Reset 30 Day Challenge
For career advice and solutions to those tricky questions, read my book!: This Woman Can - The no bullsh*t guide for women who lead
Loving this episode? Tag me @iamjanicesutherland on Instagram or Facebook and share your favorite nugget using the hashtag #ThisWomanCan
Leave a Review