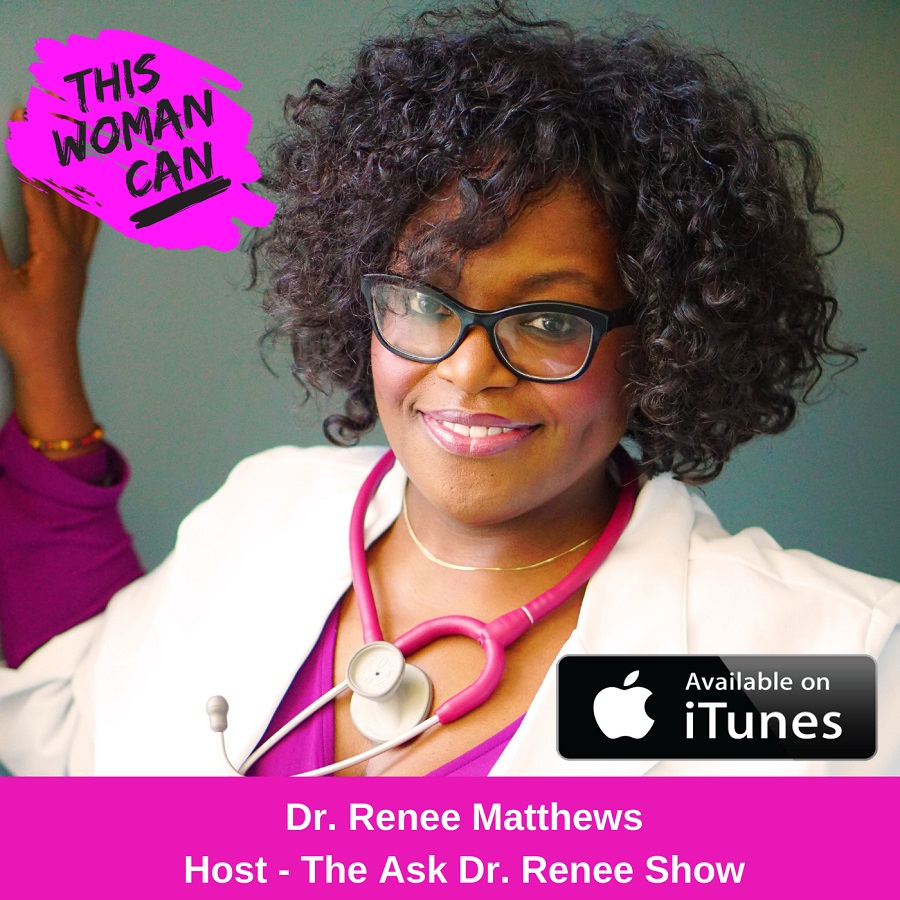 Dr. Renee Matthews has appeared on television shows such as, The Oprah Winfrey Show, TVOne's NewsOne Now and WGN-TV's People to People where she discussed different health topics. In addition, Dr. Renee has been a featured medical correspondent on SiriusXM's Sway in the Morning.
Dr. Renee earned her undergraduate degree in 1999 and her Medical Doctorate in 2005. She spent the early part of her medical career as an educator on cord blood for numerous hospitals and attending staff.
Dr. Renee is an asthmatic, which drives her passion for asthma education. She addresses the concerns of asthma sufferers, by supplying them with the tools and knowledge they need to receive the best medical care. In 2013, Dr. Renee received the Friend of Mobile C.A.R.E. Award for her commitment to raising awareness of asthma in the city of Chicago.
Dr. Renee is the host of Out of Office with Dr. Renee which is apart of Outcome Health and seen in 45,0000+ doctors office waiting rooms and exam rooms across the US. Dr.Renee is a regular writer for Good Enough Mother, and DiaryofaFirstTimeMom. Dr.Renee has been a contributing writer for Ebony Magazine, MadameNoire.com and BlackDoctor.org. She is also a sought after speaker for various organizations and schools. In 2014, The Ask Dr. Renee Show premiered as a platform to motivate and inspire people to live the life they deserve. Guests of The Ask Dr. Renee show include: Michelle Williams, Diann Valentine, Lisa Nichols, and Teddy Riley. In addition to writing about health, Dr. Renee assists others with social media, branding and becoming an entrepreneur.
She continues to work on her long-term goal of educating and transforming the community to live the life they deserve.
To connect with Dr. Renee Matthews:
Email booking@askdrrenee.info
www.AskDrRenee.info
Facebook @AskDrRenee
Connect with me 
Is it time you took your charge of your career? Do you know you have the drive and ambition to succeed but need some support? Contact me to discuss how I can help you achieve your leadership goals. For more information about the career development and consulting services offered for women who lead including one on one executive coaching and group mentoring visit; 
Free E-Book - How Much Am I Worth - This little e-book will help you identify the market rate for your role based on your skills and expertise. Critical when it to comes making sure you're compensated for the value you bring to any organization. 
For career advice and solutions to those tricky questions, read my book!: This Woman Can - The no bullsh*t guide for women who lead
Loving this episode? Tag me @iamjanicesutherland on Instagram or Facebook and share your favorite nugget using the hashtag #ThisWomanCan
Leave a Review 
Loving the show and want to help spread the word? Make my day and leave a review in iTunes! This will help us rank higher so that more fabulous women like yourself can hear these conversations.
… and lastly, remember if I can, you can, this woman can!
Janice