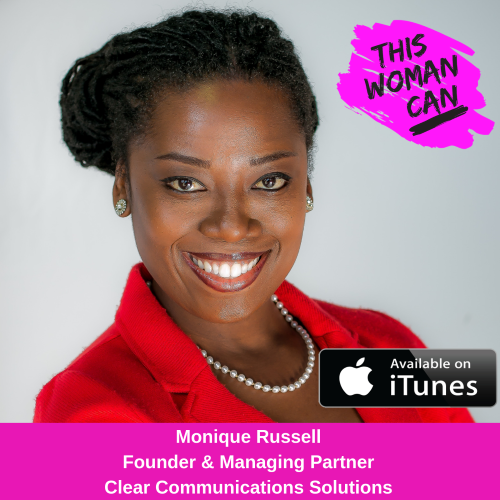 Hailing from the beautiful islands of The Bahamas, Monique Russell, MSC is an International Inspirational Teacher, and Executive Communications Coach based in Atlanta, GA who believes in leadership from the inside out. Monique is the founder and managing partner of Clear Communications Solutions, LLC, where she teaches effective communication strategies to leaders in a variety of business and government sectors. She's taught thousands of leaders globally in Interpersonal and Intrapersonal Communications, shared the international speaking stage with icons such as Lisa Nichols, and has consulted for government agencies such as the Centers for Disease Control, OSHA and for fortune 100 companies such as Verizon, Intel, and Equifax.
Because of her background, she is a frequently sought after guest on business, local and international radio shows, and she's been quoted and featured in publications as a subject matter expert in the areas of leadership and effective communications in the United States, United Kingdom, The Bahamas, Namibia, and Jamaica to name a few.
She is the founder and host of a Forbes recommended leadership conference, founder of the Clear Communication Online Institute; and an advisory board member of Leadercast, the world's largest one-day leadership conference. Despite the credentials and success, through the journey of life, Monique lost her confidence but reclaimed it through a series of empowering exercises and resources.
It is because of her multi-dimensional experiences that her teachings on how to communicate confidently from the inside out are very effective. Monique earned her Bachelor of Science degree in Broadcast Journalism, and two Masters of Science degrees in Public Relations and Advertising. She is a Certified Life Coach and DiSC facilitator. Monique is married with two boys, loves the beach, sushi, dancing and reading.
To connect with Monique:
LinkedIn: https://www.linkedin.com/in/clearcommunicationcoach
Facebook: https://www.facebook.com/clearcommunicationcoach/
Institute: https://training.clearcommunicationsolutions.com/
Connect with me 
Is it time you took your charge of your career? Do you know you have the drive and ambition to succeed but need some support? Contact me to discuss how I can help you achieve your leadership goals. For more information about the career development and consulting services offered for women who lead including one on one executive coaching and group mentoring visit; 
Register for the free masterclass click - How to start believing you're worth your market value.    
Free E-Book - How Much Am I Worth - This little e-book will help you identify the market rate for your role based on your skills and expertise. Critical when it to comes making sure you're compensated for the value you bring to any organization. 
For career advice and solutions to those tricky questions, read my book!: This Woman Can - The no bullsh*t guide for women who lead
Loving this episode? Tag me @iamjanicesutherland on Instagram or Facebook and share your favorite nugget using the hashtag #ThisWomanCan
Leave a Review 
Loving the show and want to help spread the word? Make my day and leave a review in iTunes! This will help us rank higher so that more fabulous women like yourself can hear these conversations.
… and lastly, remember if I can, you can, this woman can!
Janice