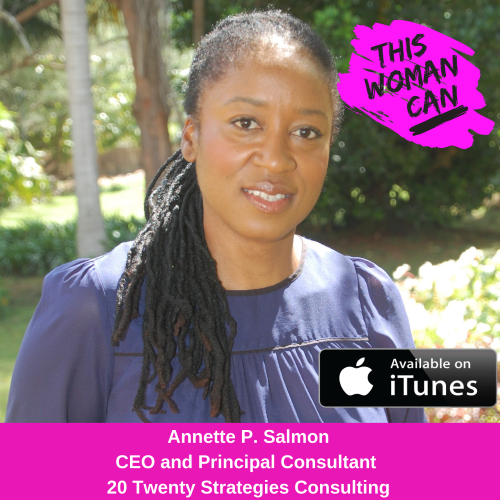 This week I head over to the home of reggae and the land of wood and water - Jamaica with Annette P. Salmon CEO and Principal Consultant of 20 Twenty Strategies Consulting. She transitioned from the corporate world to entrepreneurship to work with hundreds of micro and small business owners scattered across Jamaica from ideation to launch. 
She has been in the field for marketing for the past 27 years and is the creator of events that promotes and showcases micro and small businesses such as: Made in Manchester Expo, Small Shops BIG Business Forum, The Small Business Marketing Event and brandSTORIES.
We talk about how she creates her vision to make a difference to the forgotten backbone of industry - SMEs and the satisfaction she derives from helping other small business owners deliver on their vision.
To connect with Annette:
LinkedIn: https://www.linkedin.com/company/20-twenty-strategies-consulting/
Facebook: https://www.facebook.com/20TwentyStrategiesConsulting/
Connect with me 
Is it time you took your charge of your career? Do you know you have the drive and ambition to succeed but need some support? Contact me to discuss how I can help you achieve your leadership goals. For more information about the career development and consulting services offered for women who lead including one on one executive coaching and group mentoring visit; 
Register for the free masterclass click - How to start believing you're worth your market value.    
Free E-Book - How Much Am I Worth - This little e-book will help you identify the market rate for your role based on your skills and expertise. Critical when it to comes making sure you're compensated for the value you bring to any organization. 
For career advice and solutions to those tricky questions, read my book!: This Woman Can - The no bullsh*t guide for women who lead
Loving this episode? Tag me @iamjanicesutherland on Instagram or Facebook and share your favorite nugget using the hashtag #ThisWomanCan
Leave a Review 
Loving the show and want to help spread the word? Make my day and leave a review in iTunes! This will help us rank higher so that more fabulous women like yourself can hear these conversations.
… and lastly, remember if I can, you can, this woman can!
Janice