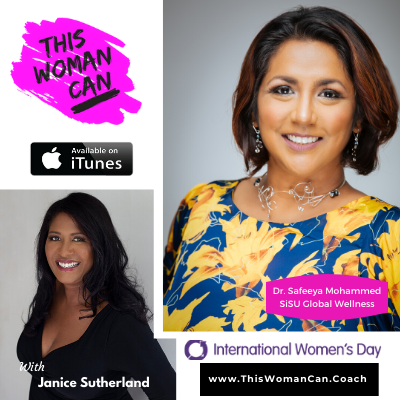 In recognition of IDW2020, I'm in conversation with Dr Safeeya Mohammed a well-known keynote speaker, with her emphasis being Work-Life Blend, Workplace Wellness, Positive Mindset and Resilient Behavior Strategies. Over the past 5 years  she has presented at several corporate and academic entities including  the CARAIFA Congress, American Chamber of Commerce and in March 2018, she led a team of dynamic women that delivered the panel, "TIME to catalyze change" at the United Nations, Commission on the Status of Women.
She was recognized as one of the 50 distinguished alumna at University of West Indies 50th Jubilee Celebration in 2011 - the youngest and only female doctor selected among her graduating peers.
Dr. Mohammed gained international recognition from Forbes #1 Social Media Influencer, Sean Gardner as one of the most inspirational women on social media globally, inviting her delivery at the Women Influence Community Forum in Geneva. She shares one of the defining moments in her career as being the assigned Physician to Nobel Peace Prize Winner, 2014, Malala Yousafzai on her visit to Trinidad, reminding her of the power of ones voice.
To connect with Dr. Safeeya
FB:  https://www.facebook.com/SISU-Global-Wellness-253510731949565/ 
IG :@drsaf_thejourney
Have you joined the This Woman Can network?  
Nobody should feel like they need to figure everything out on their own. You deserve a group of people you can trust, who understand what you're going through, and who genuinely want to help you succeed. Apart from this team in your corner,  This Woman Can has tools specifically geared to women looking to elevate their careers. Ask your questions, receive free career advice and connect with growth minded women just like you - www.thiswomancan.coach
 Connect with me 
LinkedIn or Facebook: Iamjanicesutherland